City Campus' newest building now open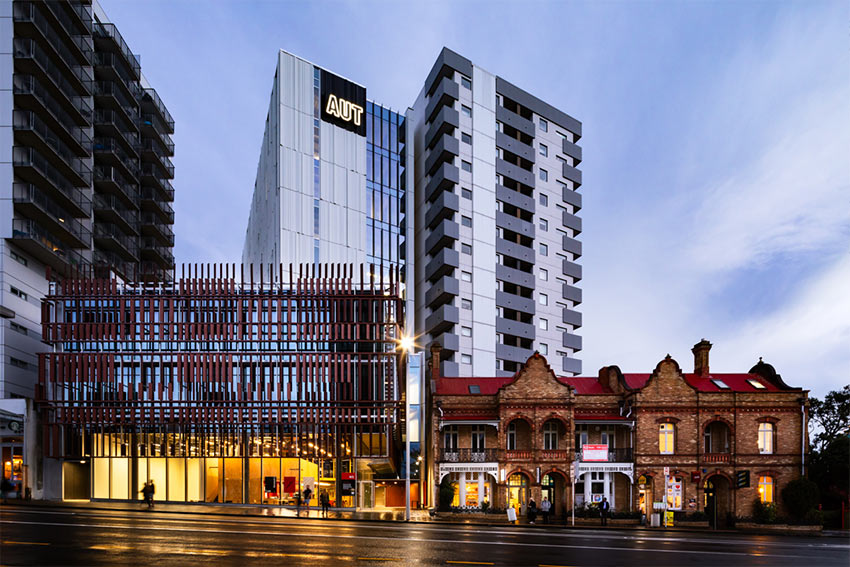 The WZ building – the new home of our School of Engineering, Computer and Mathematical Sciences at the AUT City Campus – is now open. After two-and-a-half years of construction, the $120 million building opened in time for Semester 2.
At 18,000 m² over 12 storeys, with student focused social learning spaces on every level, it's a building that's been designed and built with the end user in mind.
The building represents a new way of teaching and learning for AUT. No longer is theory just taught in a traditional classroom. The building itself is a teaching tool, with glazed plant rooms so students can see the theory they are learning operationalised, exposed ceilings, services and structural connections and the building management system viewable on screens and able to be used for teaching and manipulation by students. It represents the evolving curriculum and the knowledge that learning can happen anywhere.
The Head of the School and Dean of Engineering, Professor Enrico Haemmerle, says a drive for engineering students to have more hands-on experience meant the building was designed to be a living lab.
"The students will be able to test their theories on the building itself. They can use dual air conditioning systems in one room and compare how they perform, they can get a first-hand look at what it takes to make a building like this run by studying the plant rooms and using the building's BMS system, and that's just the start."
Professor Haemmerle says combining the three subject areas (a first for a NZ university) under one roof will mirror the industries students will work in.
"IT experts, engineers and mathematicians work together every day in most major businesses and that's the way we need to teach. Having all our staff and students under one roof allows for more collaborations, more research and more networking."
As with all new AUT buildings, WZ was built with sustainability in mind. Rain water is collected from the roofs and collected for use in labs, solar fins on the external facades ensure visible light is let into the building but exclude heat from the afternoon sun, easing the load on the air conditioning systems. LED lighting systems with occupancy sensors ensure rooms and spaces are only lit when necessary and a ground source heat pump means we are able to extract heat from the ground to heat a space or direct building heat into the ground to cool a space.
AUT's Vice-Chancellor Derek McCormack says the building was needed due to the huge growth in students studying STEM subjects at AUT.
"In 2008 we had just over 1,200 students studying toward a degree or postgraduate qualification in engineering, computer and mathematical sciences, last year we had more than 3,600. Our forecasting shows this growth is set to continue due to government push but also a shortage in these industries in NZ."
In the past 10 years AUT has also seen a strong rise in the number of female students, under 20's and Pacific students in these subjects as well.
"One of the biggest increases has been the number of students working towards PhD's in these three subjects. In 2008 there were 69 and in 2017 we had more than 280. This is testament to AUT's world-class research and distinguished researchers in this sector."