A firefighter wellbeing project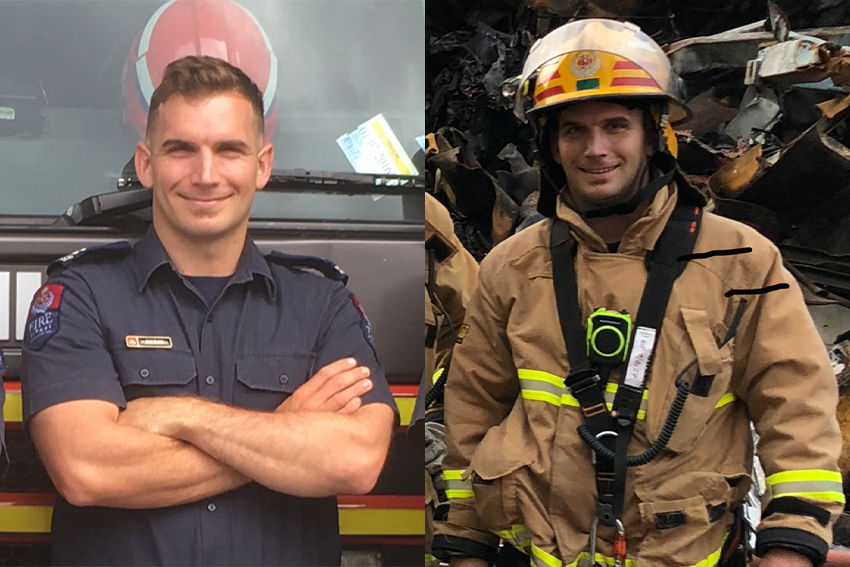 Firefighter and AUT postgraduate student, Josh Darby, is part of a core team leading a $500,000 project to improve the psychological wellbeing of firefighters.
The Whanaungatanga programme is an evidence-informed project funded by an international Movember First Responders and Veterans Grant. Josh, a senior firefighter with more than 17 years' experience, played a significant role in its design. It is aimed at male firefighters who experience exposure to critical incidents, such as suicides, infant fatalities, motor vehicle accidents, and fire fatalities. The intent is to provide a process for identifying organisational factors that contribute to psychological distress and organisational distrust, and for generating interventions to minimise or eliminate these factors.
The Whanaungatanga programme evolved from research that Josh undertook while studying violence prevention and trauma recovery at AUT. With the help of a Fire and Emergency scholarship he produced the report, Why We 360, which examined psychological distress, injury, and suicide within the organisation with the aim of helping to identify and minimise, or eliminate psychological risks faced by firefighters.
Not content to leave matters at a report, Josh, along with some of his colleagues, successfully applied for funding from Movember, a charity set-up to support and promote men's wellbeing. The Whanaungatanga Programme is one of 14 selected from seven different countries. Funding came about after an international scoping review by Movember, that found that while there were numerous veteran and first responder suicide and mental ill-health prevention programmes, many were being implemented without proper evaluation. This meant there was a lack of publicly available evidence regarding their effectiveness. The review also found that the programmes most implemented by organisations focused on what individual first responders can do for their own wellbeing, despite research that shows that organisational stressors, such as not feeling valued by your organisation or not being involved in decision making, are key factors contributing to the psychological ill-health of first responders; yet these factors were rarely the focus of change initiatives. The Whanaungatanga Programme, which focuses on these organisational factors, is set to be piloted over the next two years in Auckland and Whangārei. If successful, Fire and Emergency will consider whether it can be expanded across the country.
Personal experience
For Josh, a career firefighter, involvement in a project of this magnitude came out of personal experience. He started in the service at age 16 as a volunteer firefighter before being accepted into the service as a career firefighter at age 18. This move to make firefighting his career came after he dropped out of his tertiary studies in business, something he says, he hadn't been doing particularly well in. During his time in the service, he developed a keen interest in psychology, trauma, and supporting the wellbeing of first responders. This interest resulted partly from his own experience of psychological injury during his mid-20s, and after the loss of one of his recruit course members to suicide. While Josh initially thought these might be isolated experiences he soon found through his work as a peer supporter that issues of psychological injury might be more widespread.
Wanting to better understand the potential scope of the issue Josh approached universities to see what could be done from a research and programme perspective. In doing so he came across Dr Warwick Pudney's postgraduate violence and trauma (VT) programme and after hearing his story, Dr Pudney encouraged Josh to explore these issues, eventually leading to the Why We 360 report.
"I've always tended towards understanding psychological trauma from a meta and holistic standpoint. It's true that individuals need to take personal responsibility for their wellbeing, and it is also true that organisations and government have a responsibility for the wellbeing of their people and citizens. This is especially important when it comes to the wellbeing of first responders who, while serving the public, are repeatedly exposed to potentially traumatic events. We know from recent research that repeated exposure to traumatic events is contributing to rates of first responder psychological injury that are more than double that of the general population rates."
One of the things Josh really enjoyed about the VT programme was the opportunity to focus on trauma through numerous lenses including that of the male and first responder lens. He was also encouraged to find himself in a diverse class that include a defence force colonel, a war journalist, a disability worker, and a men's group facilitator. As he continued in his studies, he also undertook a health professional practice paper supervised by Professor David Nicholls that provided him the opportunity to explore his professional role critically and creatively and present his research findings in an impactful way.
MPhil with the AUT Human Potential Centre
Now setting to undertake a MPhil, Josh is working with Professor Grant Schofield, Professor David Nicholls, and Dr Lisa MacKay on the Whanaungatanga Programme rollout. Professor Schofield believes the programme will help explore approaches to positively impact the wellbeing of first responders.
The Human Potential Centre, led by Professor Schofield, is providing data-facilitation, and will be responsible for setting up, collection and analysis, as well as integration with existing Fire and Emergency data. "The work is an essential component in the formative aspects of an intervention programme, understanding success factors and further translating the programme to the wider organisation and beyond New Zealand," says Professor Schofield.
Fire and Emergency Deputy Chief Executive People Brendan Nally says, "We are committed to creating and maintaining a workplace and culture that minimises risk and we see this as a positive step on our journey to become a more trauma informed organisation. I'd like to thank the group of firefighters, led by Josh, for their work developing the programme to this stage and look forward to the positive outcomes I hope it will achieve.