Internship fosters passion for events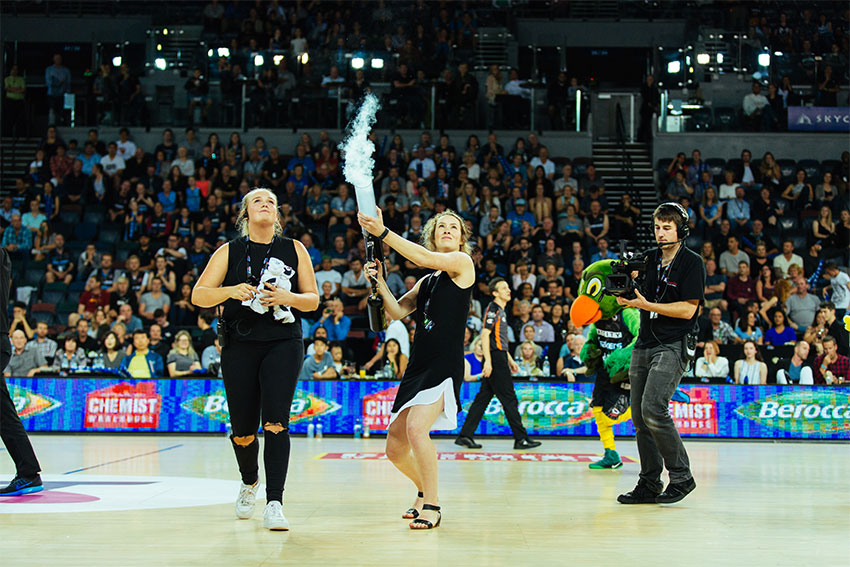 AUT alumna Maddy Elgar managed to nail it when it comes to establishing a successful career path right from the beginning. From studying, to gaining an internship at the SKYCITY Breakers, to securing her first graduate role at 2degrees – she was one to take advantage of any opportunity that popped up.
"Well, I actually started off studying physiotherapy, because that's what I wanted to do all throughout high-school. However, I felt a little unsure about everything, so I decided to go overseas. I attended heaps of cool events and festivals like 'OH!' in Holland, and that's where I discovered my real passion for events," Maddy begins.
Seeing everything come to fruition and creating new ideas for activations and entertainment is what drew Maddy to world of events, and as soon as she arrived back to New Zealand she switched her degree from physiotherapy to event management. The event management course was the perfect stepping stone for Maddy, and she liked how the course set students up with the practical skills needed when in the workforce.
"In every aspect of the course you're constantly being asked to apply your knowledge to the real world, which gives you a good indication of what to expect when you graduate. I wouldn't be anywhere near where I am today straight out of university if I hadn't of been able to have the practical learning capabilities as well."
Hungry and eager to begin practicing what she had learned at AUT, an opportunity became available through a friend to intern at the SKYCITY Breakers. They were recruiting for an events intern during their 2016/17 NBL season, and naturally Maddy applied for the role without any hesitation. The Events Manager for the SKYCITY Breakers, Meghan Botha, received her application and got her in for an interview – she was impressed instantly.
"Maddy picked up the role super-fast. I could tell that she was a natural, and that AUT had done an outstanding job at preparing her for the 'real world'," Meghan says. "You have to be able to think on the spot and formulate back-up plans during game day in-case things go wrong – which they always do in events. Maddy had these skills from the get-go."
Maddy loved the opportunities that the SKYCITY Breakers had to offer. "Not only was I excited about working at such a well-known sporting organisation, I was also stoked to be exposed to some incredible brands and sponsors. Also, the fact that the SKYCITY Breakers have international ties was massively appealing. I was able to learn about different markets, and I now have contacts overseas if I ever decide to go and work on my OE," says Maddy.
A typical day working in the SKYCITY Breakers office involved a multitude of different tasks. "Our office days were based around our project plans – so pinning down something 'wow' for half-time entertainment, pulling together activations for pre-game, time-outs, and whatever else the sponsors required," Maddy says. "We then had to finalise run-sheets, time-sheets, briefs and scripts for the games each week."
However, Game Day was the true highlight of the internship for Maddy, where she gained a genuine insight into what it was really like to work in the world of events.
"Setting up Spark Arena or NSEC requires signage placement, preparing dressing rooms and ultimately turning the arena into the SKYCITY Breakers home. Game time leaves you running around ensuring everything goes to plan, whilst liaising with the team via comms to ensure that audio and visual align, contestants are briefed and that the game runs as smooth as possible."
When asked about what Maddy loved the most about interning at the Breakers she said, "You're going to be treated like an actual adult when you work with the Breakers – there are no coffee runs, no silly jobs, it's all the real stuff. With weekly games throughout the season, you constantly get exposure to the event industry and have the chance to engage with partners and sponsors."
Everything managed to fall into place for Maddy, who ended up securing a role at 2degrees through her internship at the Breakers. Events Manager, Meghan, got word of an opening at 2degrees where they were on the hunt for a Sponsorship and Events Co-ordinator.
"It all happened really fast – I had been recommended, interviewed and offered the job all within two weeks, it was a whirlwind but the best type of whirlwind! Opportunities like this don't come about often, especially for graduates," Maddy says, still overwhelmed.
Maddy has been at 2degrees for just under two months now and is loving every second. She is constantly learning about different aspects of the event-world, which keeps her challenged and stimulated in her role. "There's two sides of event management – actually running events and then activating sponsors into events. Activating sponsors into events something quite new to me, but I'm loving learning about the creative side of events."
Story adapted and reproduced with permission from the SKYCITY Breakers.