Feeling the Tokyo Heat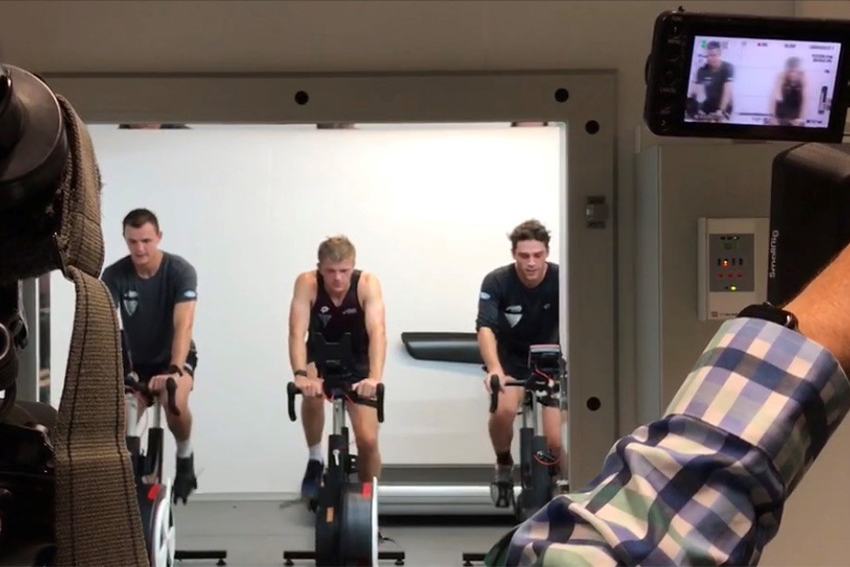 With the Tokyo Summer Olympics scheduled for July and the Paralympics straight after, many of New Zealand's top athletes can be found training at AUT Millennium under the auspices of scientists and researchers.
To make sure they're prepared for Tokyo's stifling summer heat, Olympic teams are using heat chambers at AUT Millennium, Wintec, Waikato University and Otago University.
As well as providing facilities, sport scientists from the four tertiary institutions are collecting data which will be shared and collaboratively analysed.
AUT sport physiologist, Professor Andrew Kilding, says hockey, sailing, and rowing are some of the teams undertaking heat training across various tertiary institutions. The Black Sticks have already started, working out on cycling machines in 35° C heat with 70 percent humidity in AUT's chamber.
Dr Kilding is also a member of High Performance Sport NZ (HPSNZ) which employs performance scientists to work with the teams on their preparation needs, including the heat strategy.
"With the Olympic games less than 100 days away, and many years of planning, we are now approaching the important implementation phase. We're preparing them for a worst-case scenario. We can create 95% humidity, tropical conditions if we want to," he says of the AUT chamber which has a temperature range of –5 to 50° C.
"On the research side, we are always trying to improve our understanding of optimal heat preparation for these pinnacle events. We know that athletes who don't prepare for heat often don't finish or have a massive degradation in their performance. Lots of research has been done on how heat can improve performance but typically not in the lead up to a major event. So, this is a real-world study".
Dr Kilding says heat chambers are one element of a heat acclimation plan. Athletes also use hot spas and saunas to help their body to become accustomed to hot conditions. "We usually combine a range of different methods to get the desired adaptation."
Useful links