11 types of internships from AUT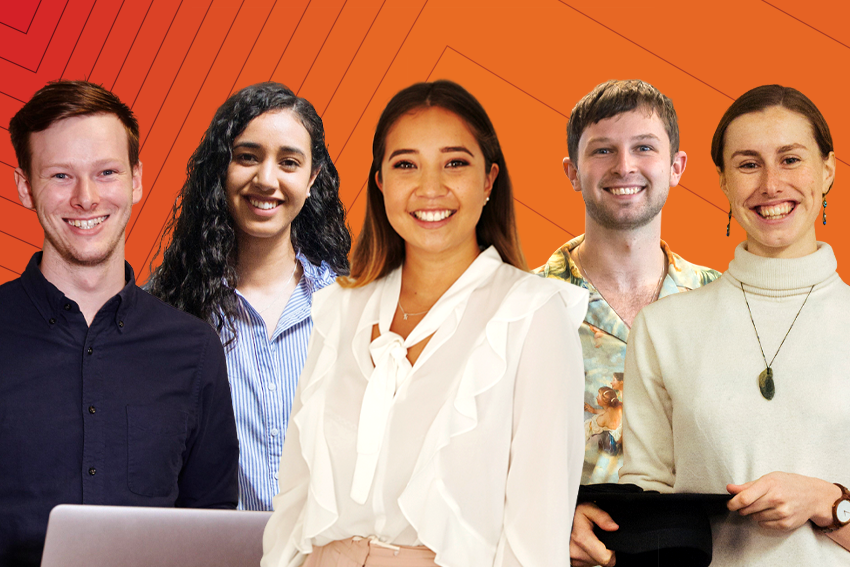 University holidays are just around the corner. It's a perfect time to bring some extra human resource into your business by taking on a student with energy, enthusiasm, interest in your industry, a sharp mind and, best of all, some spare time.
Whether you need extra help with a project or a fresh perspective on your business, hiring a student intern to get things done can give your business a boost. It's also the perfect way to get a taste of the skills students have, and if you love what you see you can keep in touch – one day they will be a graduate.
To make your life easier we've created AUT talenthub. It's a free recruitment service provided by AUT where you can list paid internships for students.* The recruitment team will advertise your internship, meet with candidates, check all applications and only pass on the candidates that are the best fit for your company.
Here are 11 jobs that are perfectly suited to a summer intern from AUT.
Digital media

A student intern can assist in your digital projects ranging from designing, editing, testing user experience to creating content. Whether it's online, video or content writing, a student intern can use their skills to bring your digital strategy to life.

Social media

Getting a student to handle your social media is a no brainer. They live and breathe social media so why not get them on board to contribute their perspectives and strategy to your social campaigns. There's no doubt they'll take your social media game to the next level.

Engineering

Design, analysis, testing of systems as well as assisting in the design and development of future hardware – just some tasks engineering interns can help you with these holidays. You can get student interns to support other experienced engineers in your business, spend time shadowing projects or even work on their own assigned tasks.

Human resources

Hiring an intern in human resources can help you have a fresh look at your company culture and employee satisfaction. You can get them to carry out surveys, create reports, collaborate with employees and conduct research within your company.

Accounting

A student intern can support you with data entry, maintaining financial reports and daily accounting tasks. It gives you the chance to get in touch with current students, show them how things work at your company and once they graduate you have the option of hiring them full time too!

Event coordination

Make your next event one-of-a-kind by recruiting a student intern. They'll bring their ideas and enthusiasm from planning to execution. Get them involved in planning meetings, contacting sponsors, organising catering, promoting the event and keeping track of mailing lists.

Public relations

Student interns can write press releases, make media calls, dream up creative ideas to get your clients' attention, and help you plan your public relations strategy for the year ahead. Get ahead of the game over the summer holidays while your competitors are at the beach!

App development

Do you have apps or websites that require designing, building or monitoring hiring? A student intern is a fantastic way to maintain these applications. Interns can also contribute fresh ideas to your brainstorming sessions and find unique solutions.

Marketing and communications

Campaign implementation, monitoring, reporting, developing a marketing strategy and preparing presentations are some things a marketing or communications intern can help you with. Think of it as an extra set of hands that will help you finish your projects on time.

Research

Students have plenty of experience in researching and producing reports. Offering a research-based internship will benefit your business as you can get them to apply their skills from the classroom into the real world. You can get them to conduct surveys, analyse a market and produce a report on the results they find. Their fresh perspective to your business will keep you moving forward.

Graphic design
If you need eye catching imagery for your company or clients, a graphic design intern is the best decision you could make. You can trust them to create effective designs for your projects. Whether it's for online content, print or an advertising campaign, a graphic design intern can help you execute your vision and meet your deadlines.
*in fact, you can also list jobs for graduates – if that's what you're after.