10 years of AUT-Vietnam partnership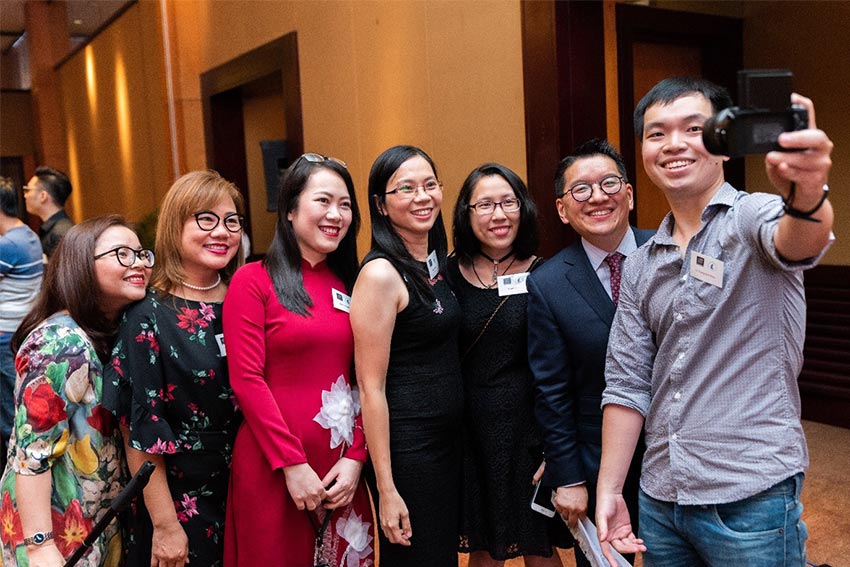 Over 150 people attended a packed AUT event in Vietnam's Ho Chi Minh City on 1st October to celebrate the 10-year anniversary of AUT's relationship with Vietnam National University Ho Chi Minh City, one of the country's two largest universities. AUT's long-standing educational relationship with Vietnam has existed for over 26 years, and was strengthened by signing of the 'New Zealand/Vietnam Strategic Engagement Plan on Education' in 2015.
The event welcomed a number of notable guests including New Zealand's ambassador to Vietnam, HE Wendy Matthews, key colleagues from Vietnam National University Ho Chi Minh City, and industry representatives.
It also celebrated some of AUT's great graduates from two of Vietnam's major cities, Hanoi and Ho Chi Minh. The Faculties of Business, Economics and Law, as well as Design and Creative Technologies honoured some of their top graduates with awards to recognise their academic achievement.
Dean of the Faculty of Design and Creative Technologies, Professor Guy Littlefair said, "It is great to see the accomplishments of our Vietnamese graduates; we would like to continue to encourage them on their journey to pursue even greater missions."
"AUT's Vietnamese alumni already have a strong presence and influence in their country; this will only continue to grow. It represents an amazing opportunity for AUT and events like this are a great way to engage these alumni who will be amazing ambassadors for AUT, besides leading to opportunities that will be beneficial for both alumni and AUT," says Director of Alumni Relations, Sam Mickell.
AUT also recognised some of its recent graduates under the Vietnam National University Ho Chi Minh City-AUT partnership programme who had graduated with a Bachelor of Computer and Information Sciences, and were delighted to have them at the event.
HE Wendy Matthews concluded the event by reiterating the importance of the two-way partnership that Vietnam and New Zealand universities enjoy. The number of Vietnamese students pursuing bachelor's degrees at New Zealand universities places it among the top five of all countries. AUT hopes to continue to strengthen this relationship via ongoing engagement with Vietnamese alumni to support networking and career opportunities for them in Vietnam and New Zealand.