AUT alumnus awarded bravery medal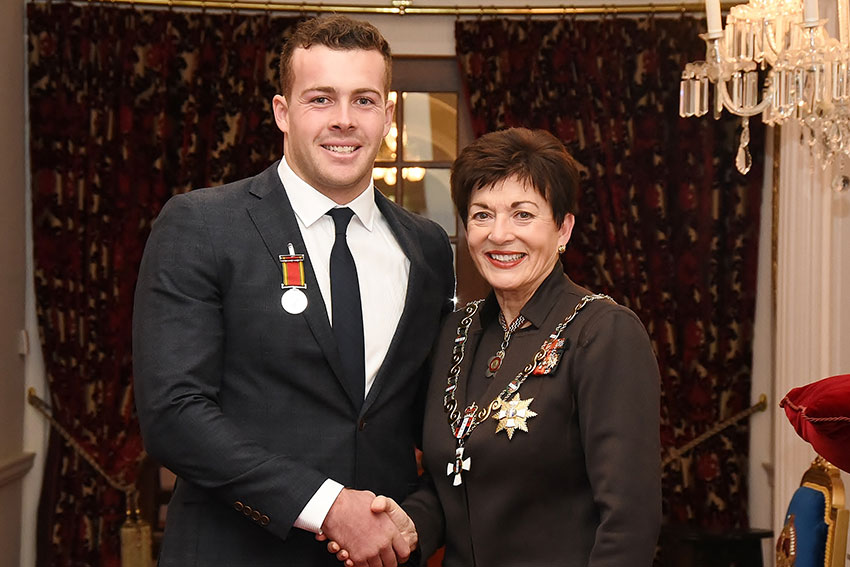 Paramedicine alumnus Andrew Roy was one of just ten citizens awarded a Royal Humane Society of New Zealand silver medal for bravery at a ceremony at Government House.
Andrew's award is recognition of his bravery following a cargo plane crash in Lukla, Nepal in May 2017. Andrew – an Advanced Flight Paramedic – along with specialist mountain helicopter pilot Andrew Gutsell and Alyssa Lowe, an Emergency Nurse, were first on the scene when a Goma Air cargo plane crashed near the Tenzing Hillary Airport. The pilot died on impact, leaving a co-pilot and critically-injured flight attendant.
Andrew scaled the side of a cliff to reach the plane's fuselage and quickly organised a group of Nepali Army and Police officers to evacuate the co-pilot and flight attendant. Throughout the rescue Andrew and the others had to deal with a precariously balanced wreck, fumes from a ruptured fuel line and overzealous locals who were hacking at the side of the plane with axes in an effort to free those inside (the sparks caused by their axe were dangerously close to igniting the airline fuel or oxygen tanks).
Over the course of a 17-hour rescue mission Andrew and the team were able to provide continuous care to the critically-injured flight attendant – eventually transporting her to a hospital in Kathmandu once the weather had cleared.
Andrew, Andrew and Alyssa not only rescued the two surviving crash victims, they controlled the gathered crowd of locals and mitigated hazards to prevent a catastrophic post-crash fire and explosion.
The trio were presented a silver medal for bravery by Governor-General Dame Patsy Reddy at a ceremony at Government House on Tuesday 5 June.
Read more about Andrew Roy and his award on the Office of the Governor-General website.